Discounts, Deals & Special Offers for London theatre tickets
Our full selection of shows with discount seats, theatre and meal deals, as well as special ticket offers, can be found below. All offers are subject to availability.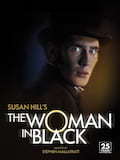 THE WOMAN IN BLACK




Fortune Theatre
Celebrating 27 years of frightening audiences in the West End, the spine-chilling adaptation of Susan Hill's gothic novella The Woman in Black, is set as a play within a play. Elderly Arthur Kipps retells his terrifying experiences at Eel Marsh as a junior solicitor to a young actor in an abandoned Victorian theatre, in the hope that his ghosts will be exorcised forever. But are they truly gone?
This show currently has 5 offers available.
What's on When
You might like: